This combo includes Pravek-T & Medohar Capsules which work together in managing excess fat. Both these products work naturally in reducing weight and complications related to weight gain.
Pravek-T is a unique ayurvedic drink made with 20 pure herbs, that help relieve acidity, gas and constipation.
Pravek-T is sugar free; has zero tea leaves; and is loaded with essential vitamins & micronutrients.
Both Pravek-T & Medohar boost metabolism and help manage chronic constipation issues.
Together Pravek-T & Medohar, support digestion and control acidity.
Effective in the management of excessive weight gain and beneficial in conditions like fatty liver.
Medohar cleans blood vessels, reduces cholesterol and triglycerides levels in the blood.
Medohar acts on thyroid gland and helps regulate thyroid function.
Sale price
₹470.25
Regular price
₹495.00
5% off
Unit price
per
Sold out
(MRP INCLUSIVE OF ALL TAXES)
View full details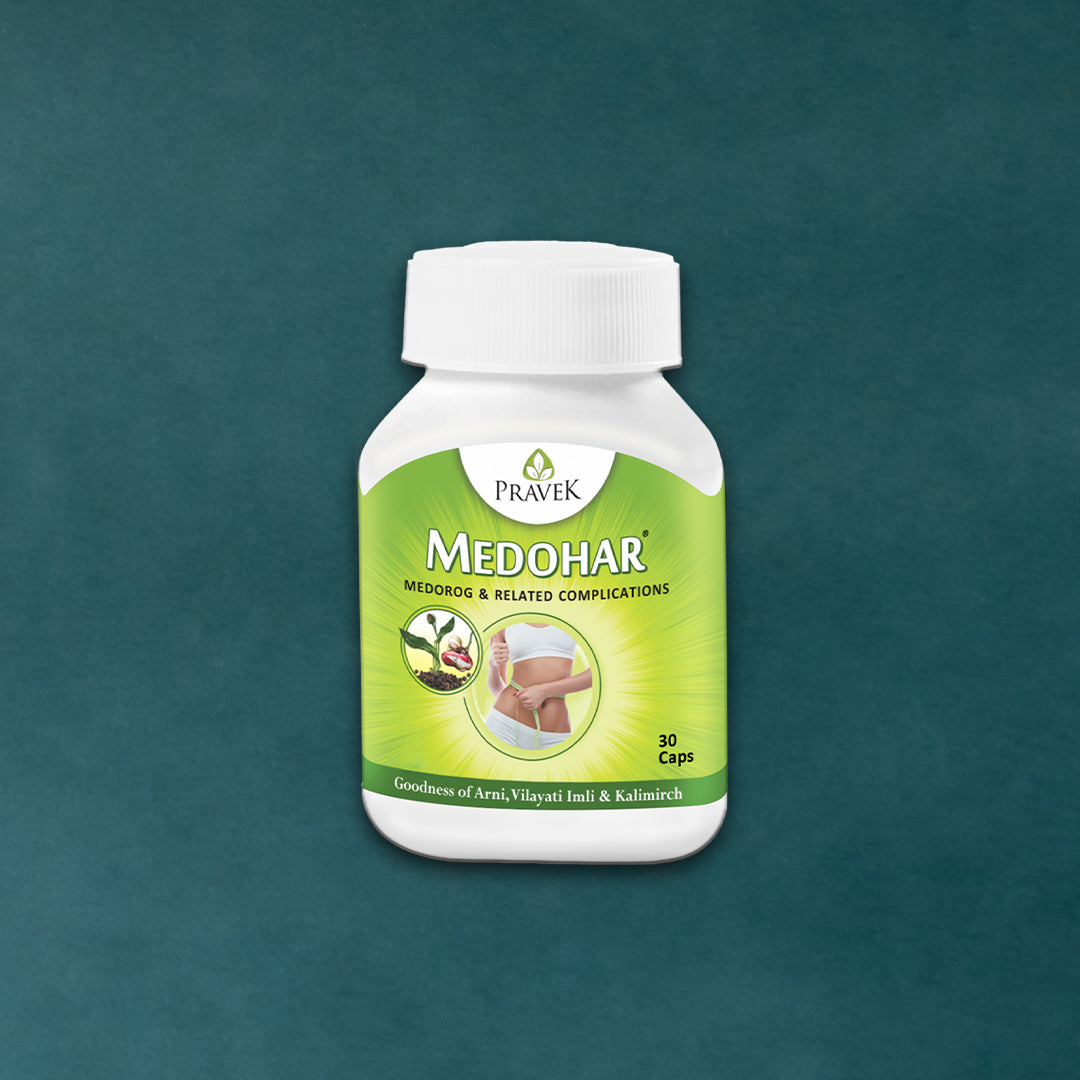 Product Description
Medohar is a herbal medicine for excessive weight management that balances the adipose tissues reducing excess fat to avoid further complications. It stimulates fat metabolism and converts the excess fat into energy. It is helpful in managing BMI and lipid profile. Pravek-T is an ayurvedic formulation of pure herbs which regulates many health complications. It helps in losing excess fat, reducing constipation and gas formation, as well as acidity. It is a sugar-free formulation that contains no tea leaves, only herbs, along with essential vitamins & micronutrients.
What's inside that really matters
Dalchini

Fights cold, cough & flu.

Kalimirch

Increases gastric juice and improves digestion.

Shuddha Guggulu

Beneficial in cases of excessive weight gain.
Collapsible content
Directions for use

Pravek-T: Brew a teabag in a cup of hot water for 2-3 minutes. Drink it warm or cold. Honey/ jaggery can be added as per taste. Dosage: 3 Tea bags in a day or as suggested by the physician. For better results, in case of excessive fat, Pravek's Medohar is recommended with Pravek-T. Medohar: 1-2 capsules twice daily with water or as directed by the physician.
Additional Information

Pravek-T:
Protein N*6.25, % by wt. (6.77%)
Fat (ether extract), % by wt. (0.37%)
Carbohydrate, % (79.17%)
Energy Kcal/100g (6.94kcal)
Vitamin C, mg/100g (2mg)
Iron (as Fe), mg/100g (0.731mg)
Copper (as Cu), mg/100g (0.02mg)
Calcium (as Ca), mg/100g (1.21mg)
Magnesium (0.312mg)
Precautions

Read the label and instructions carefully before use.
Do not exceed the dosage mentioned on the label unless suggested by a practicing physician.
Keep out of reach of children.
Image is for representation purposes only. The colour of the product may vary.
Pregnant, lactating women and infants should use under medical supervision only.