This combo includes Pravekprash & Diabkalp which work well together to manage symptoms of diabetes and improve overall health and immunity.
Gudmar, Jamun and Karela, in Diabkalp, controls increased blood sugar and build strength.
Diabkalp helps in correcting pancreatic and kidney function and related complications like tiredness, irregular micturition and progressive diminution of vision.
It is effective in treatment of diabetes and related symptoms like general debility and pain in calf muscles.
Pravekprash is useful for cardiac patients. It can be given to patients with low or compromised immunity to improve their immune status.
Pravekprash® has been fortified with the addition of Saffron, Lauha Bhasma, Abhrak Bhasma, Silver Waraq and Mukta Panchamrit.
Pravekprash improves immunity and enhances energy and stamina.
Sale price
₹247.00
Regular price
₹260.00
5% off
Unit price
per
Sold out
(MRP INCLUSIVE OF ALL TAXES)
View full details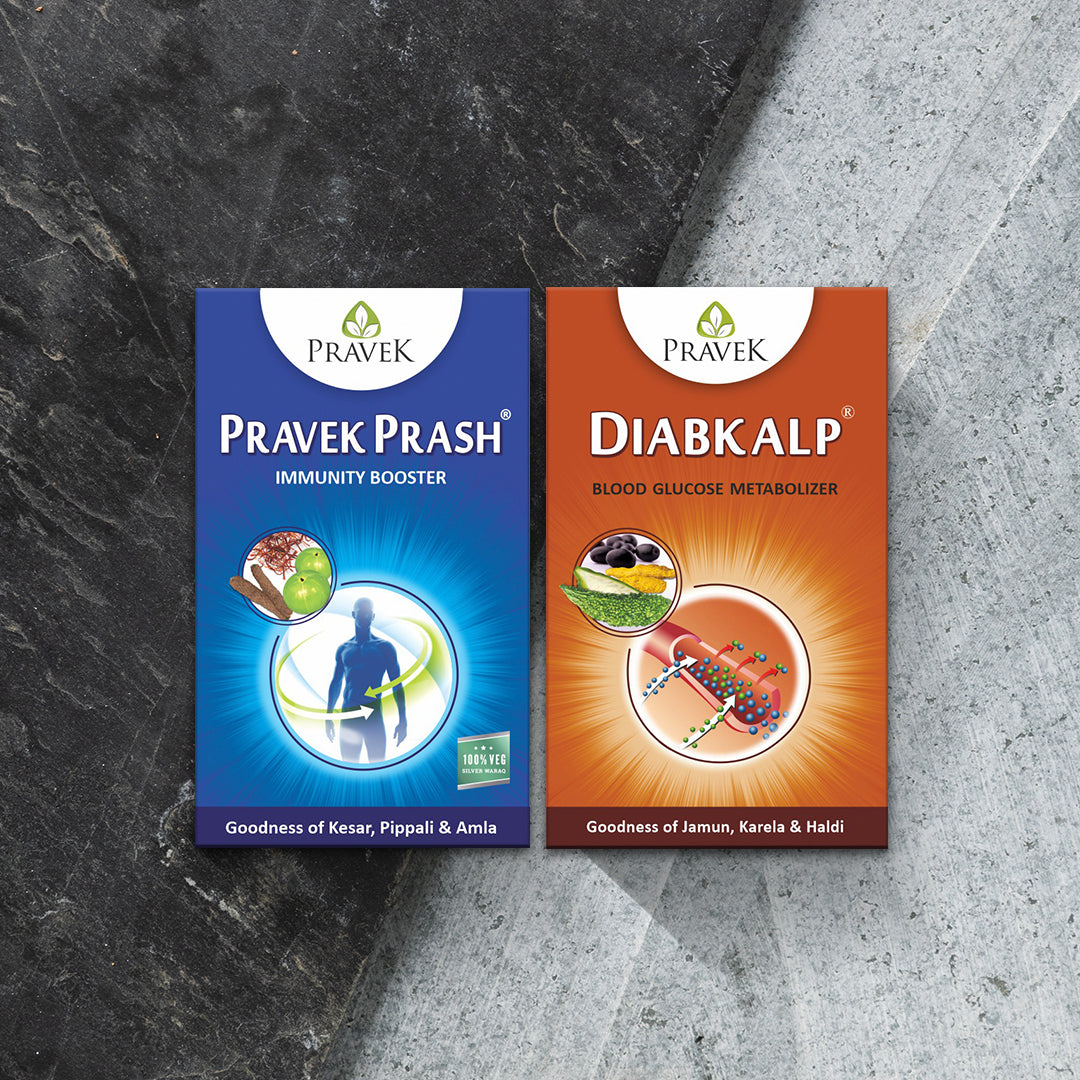 Product Description
Diabkalp activates pancreatic beta cells to release sufficient quantity of insulin hormone in the body system to manage hyperglycaemic conditions (increased blood sugar level within physiological level). Pravekprash compliments Diabkalp as it is a sugar-free immunity booster. Pravekprash can be given to patients with low or compromised immunity to improve their immune status.
What's inside that really matters
Gudmar

Helps manage insulin level & control diabetes.

Haldi

Purifies blood & helps manage diabetes.

Jamum

Reduces blood glucose. Provides relief in fatigue.

Karela

Effective in managing sugar levels in the body.

UNALDULTERATED HONEY

Good for the throat and digestion.
Collapsible content
Directions for use

Pravekprash: 2 capsules at a time or 1 capsule twice a day with milk/water or as advised by the physician.
Diabkalp: 1-2 tablets twice daily before meals with water, or as directed by the physician.
Nutritional Information

An ayurvedic preparation. No side-effects reported till date.
Precautions

Read the label and instructions carefully before use.
Do not exceed the dosage mentioned on the label unless suggested by a practicing physician.
Keep out of the reach of children.
Image is for representation purpose only.